TRUE OR FALSE: Is Young MA Pregnant?
is Young MA Pregnant?
Young MA being pregnant is what has got the internet talking. Is Young MA Pregnant? If so who's the daddy? Kodak? Well, the answer to all the rumours are simple.
No
Rumours have been floating on Twitter that Young MA is pregnant.
The reason for this is in this clip:
View this post on Instagram
Fans reactions to the "is Young MA Pregnant" rumours:
I don't know who started the rumor that Young MA is pregnant but they need to be in solitary confinement for even making that up.

— Ahmed🇸🇴 (@big_business_) July 21, 2021
Is Young MA really pregnant or is this Twitter being Twitter again? Don't play right now I'm very concerned pic.twitter.com/8Z4zeSVtFw

— **name** (@Baby0Sun) July 20, 2021
Kodak really got Young MA pregnant pic.twitter.com/4k8RfgTn42

— ♣ (@Itsjaycub3) July 20, 2021
Me hearing that young ma is pregnant 😭 pic.twitter.com/xb1DBzy4H6

— ANTOIN£TT£✌🏾 (@aantoinettek) July 20, 2021
Instantly thought about this post when they said Young MA was pregnant 😂😂 pic.twitter.com/ux4xNvJ0rw

— Boo Radley (@BooRxdley) July 21, 2021
I think Lil Nas X got Young Ma pregnant

— Michael Blackson (@MichaelBlackson) July 21, 2021
Young MA aint drop **** ina minute, hope big bro aint get pregnant

— jeshus (@jxshvs) July 21, 2021
Young MA has since responded by saying this: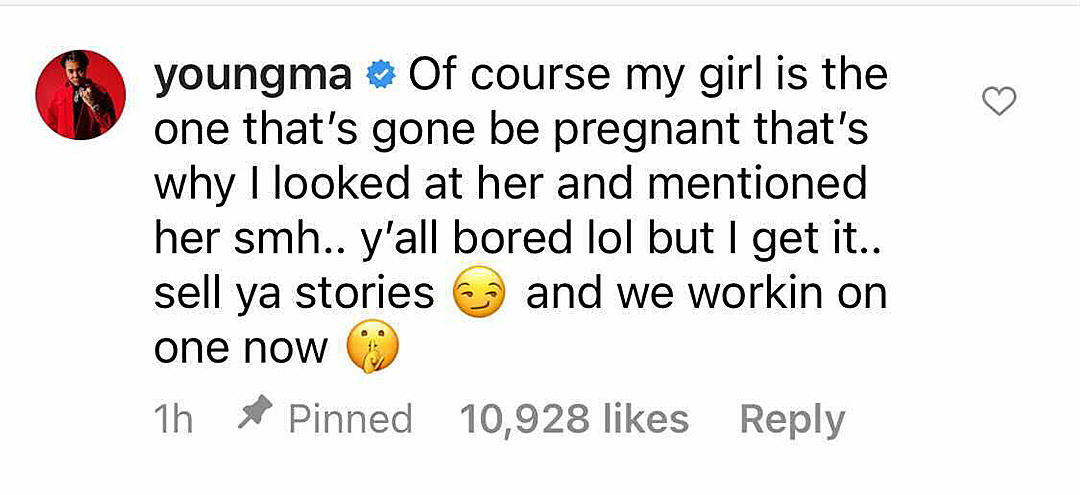 Who is Young MA? 
Young M.A, is an American rapper who first gained widespread recognition with the release of the quadruple-platinum hit single "Ooouuu", breaking the top 20 of the Billboard Hot 100, boasting over 300 million YouTube views on the music video.
Young MA has actually worked with some the industry from the UK. She has appeared on Link up TV in London in 2018, speaking on her love for the ladies and also expressed that she wanted a Link Up TV Behind Barz Freestyle.
Young MA has also worked with UK artists Chip & Young Adz. This song was featured on Chips album 'Snakes & Ladders' which was released on the 29th of January 2021 and peaked in the charts and number 7. The music video for this song was uploaded to Youtube by GRM Daily, who are currently sitting at a whopping 4.37 million subscribers. GRM Daily used to be called GRIME DAILY, but the channel was deleted. It's now known as GRM Daily, which stands for 'Grime and Rap Music'.